Today, as I was doing my usual online browsing, I was noticing a really strong assortment of holiday-appropriate pieces on some of my favorite shopping sites. I started to think about what I had in my closet that I could potentially wear to some of the holiday parties coming up this season. I couldn't really think of much that would strike that perfect balance of casual and dressy (with a hint of glam), which I think defines holiday outfitting. That's when I came up with the idea for a series of blog posts offering some of my favorite picks for holiday outfits. It's not always easy to put these outfits together, especially when (for some of us) staying warm is also a factor. All of the outfits won't be dresses, but I'm starting with one in tonight's post because I'm a real sucker for a cute dress. I'm also a firm believer in the power of a pair of fun tights [Hint: Anthro has a really awesome selection right now.] I also made sure that all of my picks are versatile, and can be worn casually before and after those fun holiday shindigs.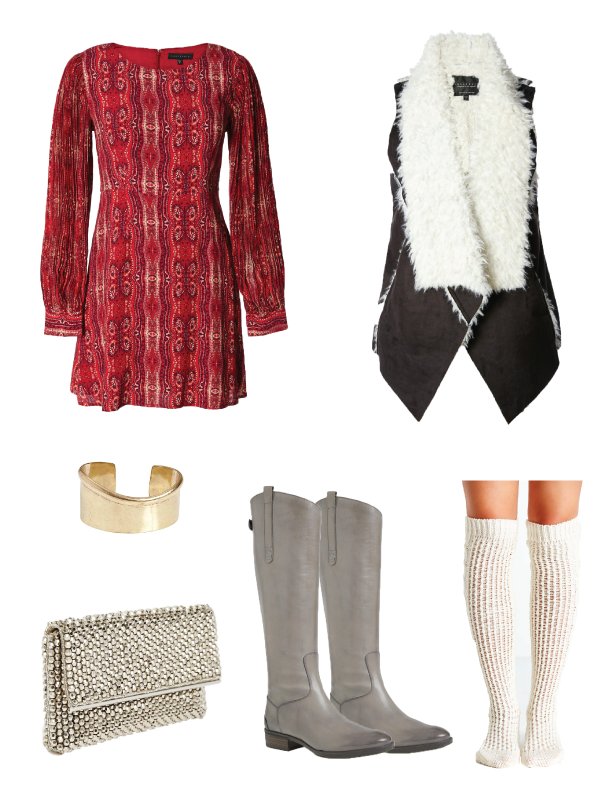 Sanctuary Modern Milly Dress >> I thought this dress was just too good to pass up for this post. It's got so much going for it: long sleeve mini style, great pattern, perfect holiday color and an obviously flattering fit. It's not too tight, but just slim enough to give you some shape. It's the perfect style to layer something over it, like a vest or a jacket. In this case, I chose to pair it with a fabulous suede and faux shearling vest.
Sanctuary Voila Vest >> I wouldn't normally link two of the main items from the same brand, but this vest was just too perfect for this outfit. I love how the dark brown suede pulls the darker tones out of the print of the dress, and the fur makes the look ideal for the holiday season. If you'd rather wear something with sleeves, then give this faux fur coat a try!
Sam Edelman Penny Riding Boot >> Riding style boots are super versatile. They're structured enough to be paired with a dressier look, but casual enough to throw on with jeans and a tee. In this outfit, I thought they'd be perfect to wear with a pair of chunky tall socks peaking out over the top of the boots. It adds a cozy element to the outfit (and keeps your toes warm!)
Urban Outfitters Oversized Cable Knit Tall Socks >> Of course there isn't just one place to get socks this season- you can pick up a pair of tall cream colored socks pretty much anywhere! Urban's sock game has been really strong lately, so I figured I'd link a pair from there. I'd go with a thick, textured pair to wear with the riding boots.
Lucky Brand Abstract Cuff Bracelet >> Since the neckline on this dress is fairly high, and since there's a lot happening up top with the jacket, I wanted to limit the jewelry to just the hands and wrists. A gold or antique brass finish will compliment the red and the brown perfectly.
Dune Eternity Beaded Clutch >> This outfit just would not be complete without a little sparkle. What better place to add in the sparkle than in the handbag? A sparkly clutch is the perfect addition to any holiday outfit. Instant glam!
Stay tuned for the next holiday look!
Live Well | Dress Well