The holiday season is coming to a close, which means that retailers (especially physical stores) are looking to fight back against the excessive returns coming their way. The great sales we saw before the holidays usually stick around through the beginning of January, and often get even better in order to entice consumers to buy or exchange instead of return their merchandise.
I'm a huge fan of online shopping, but I'm way more likely to purchase something if I'm physically in a store with the products right in front of me. My only issue with being in a store this time of year is that I'm in a store with 500 hundred other people, being pushed and sneered at by all those grumpy shoppers. Crowds are not my thing. I decided that if I was going to shop those post-Christmas sales, I'd have to do it super early. So I woke up early, hit the gym, then went straight to the mall. I even stopped for a coffee to leisurely sip (though I ended up having to chug it and toss it in order to use more than one hand to shop.)
I wasn't even planning to go to Lord & Taylor, but I figured I'd stop by since I hadn't been in there in a long time. As I walked in, I was handed a little card that gave me $20 off my purchase as a "doorbuster" perk. Is this what happens when people go shopping super early? I need to do this more often. I headed straight to a sale rack with an extra 40% off the ticketed price. There was zero chance I'd be leaving empty handed.
I'll save you the rest of the play-by-play, and just tell you what I ended up buying. If the items are still available on the L&T website, I'll link them, but I can't guarantee they'll be at the same price. I'm tellin' you, those in-store perks are amazing.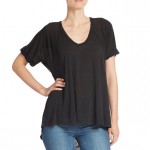 Free People Linen Blend Henley
I couldn't find the suede fringe jacket that I purchased in-store, so I am linking a similar style:
Vince Camuto Faux Suede Fringe Jacket
I also could not find the awesome camo muscle tee that I purchased, but did manage to link another soft and comfy looking camo top:
Curious about how much I spent on the loot? $148 (including tax) for all 6 items!
Live Well | Dress Well