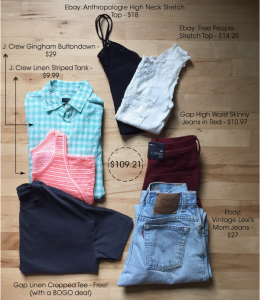 Shopping has always been my sport of choice [don't worry, Crossfit, you're a close second]. When you shop on a budget (like me), it's incredibly satisfying to score a deal on an outfit that you've been longing for, or know for a fact is selling for way more elsewhere. If I'm on the lookout for something in particular, I can tell you that I am hunting for the best deal. I will rarely settle for the first sighting.
This month, I was on the hunt for a few things:
1) Mom jeans – Yes, the wonderful 90's style, roomy tush, tapered leg denim is back with a vengeance. Depending on what they're paired with, they can take on a sort of boho/edgy/90210 vibe, which is what drew me to them initially. Upon trying these on, I began to think that whoever designed these had a pretty specific body type in mind (and I'll tell you, it ain't mine). Even so, I'll give them a shot for a bit.
2) Stretchy, textured Free People tops – I'm really drawn to those fitted Free People tees and tanks that are adorned with cutouts and cool textures. They're surprisingly flattering, and always super soft and comfortable. These are great for tucking into loser fitting bottoms (joggers, boyfriend jeans, high waisted shorts).
– Check out EBay for some great deals on Free People items.
3) Something neon – I'm pretty much always drawn to neons, but I don't wear much of it. I've noted that J.Crew does neons really tastefully, so I stopped in to see what they had. Lucky me, they were having a 50% off promo, and I nabbed a cute pink neon striped tank for $10! While there, I locked eyes with a mint gingham buttondown and it was love, so I bought that too.
-Check out the J.Crew Summer sale! Crazy deals.
Admittedly, the two items from Gap were not on my list of must-haves, but when I saw a sign for "buy one get one free", it was obviously worth sifting through the racks. I scored a super soft pair of red high waisted skinnies for $11, and got a simple linen cropped tee for free! I felt pretty good about that one.
I ended up spending a little over $100 on what I considered my July must-haves, and honestly, I think that's pretty darn good. If something doesn't work out (I'm looking at you, mom jeans), I'll just resell.