Remember when I said that shopping was my sport of choice? Well, yesterday was proof of that. I was totally exhausted from a full day of shopping (and eating) with my lovely mum. I'll tell ya, the woman's got some endurance. I was just trying to keep up.
For as long as I've loved fashion, my mother has been my partner in crime for hitting up places like Marshalls, TJ Maxx and Nordstrom Rack. This is obviously where I get my deal-searching instincts, and how I acquired a love for the hunt.
Today was all about tops, specifically t-shirts. I picked up 6 new shirts: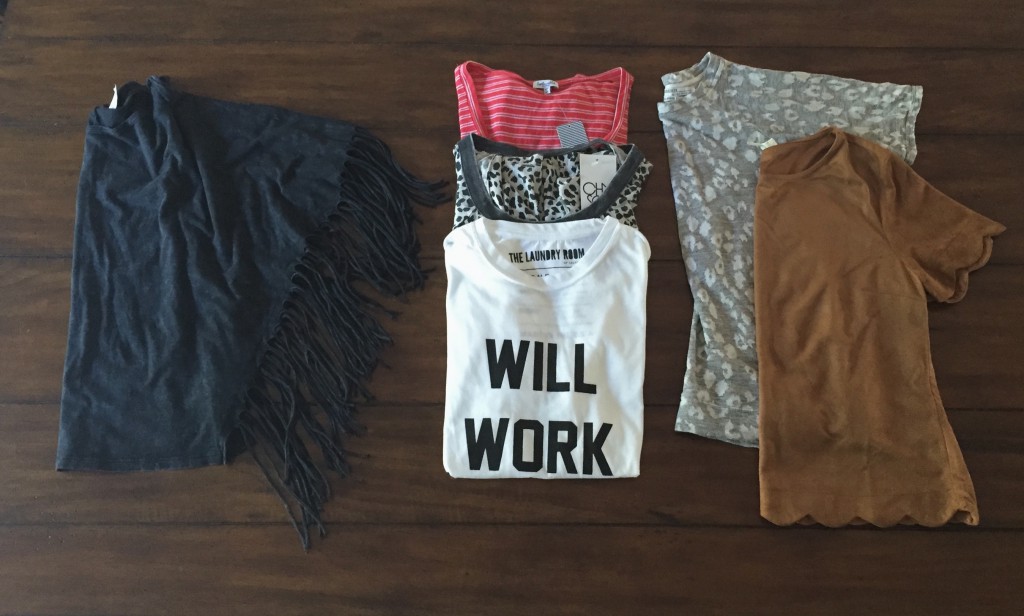 • Super soft red and white striped v-neck by Splendid >> It's hard to deny the comfort and ease of this brand. Put on any of their clothing and you won't want to take it off.
• Faux suede, scalloped edge t-shirt by Monteau >> This is a brand that Marshalls and TJ Maxx carry in the juniors section. I can't deny a cute top for under $20!
• "Will work for coffee" graphic tee by The Laundry Room >> This brand makes a ton of really cute graphic tees. You'll even find Beyonce rocking them!
• Black fringe sleeve t-shirt by American Age >> Another Marshalls/TJ staple brand that focuses on current trends. Another top for under $20!
• Soft leopard print tee with back cutout by Chaser >> I couldn't find this guy for sale anywhere, but Revolve has a serious collection of Chaser tees that are worth a look!
• Camo oversized buttondown by Sanctuary >> I have always loved this brand for their vests and jackets. They're always perfectly slouchy, but chic enough to look put together. Nordstrom and the Rack are always stocked in this brand!
I also grabbed a new pair of leggings at Nordstrom Rack, because my older pairs have gotten a bit wonky and stretched out. Can't argue with $9.99!
I threw in a new purchase from Poshmark into the photos. It's an All-Saints leopard knit t-shirt. It's made with a light sweatshirt material, and so incredibly comfy!
My mom bought me a beautiful bangle bracelet by Dara Ettinger. I love Dara's jewelry- the stones are just so gorgeous. It's this cool mix of polished and rough. Noah's mother also gave me a bracelet this week for my birthday- it's an Alex and Ani bracelet with the hand of fatima. On this one, the charm slides back and forth on the band. I think I may like that style better than the hanging pendant. Needless to say, these two beauties may have to be new additions to my core-four bracelets (though I'll need to change the name to the central-six.)

Live Well | Dress Well