I'm so happy to be able to throw on a pair of overalls and not feel like I'm sporting Osh Kosh dungarees circa 1995. These days, the selection of flattering and on-trend overalls is out of this world. There are so many amazing options, at a variety of different price points. Pretty much every brand that I shop carries their take on the classic denim overalls, so I was bound to find a pair that worked for me.
You'll most likely find me in my grey ankle grazer overalls that I found at TJ Maxx for under $20! They're actually Hollister, which is not a brand I would normally wear, but I gave these a shot and they fit perfectly with plenty of give to the fabric. They're my new go-to 'ralls if I'm looking for quick outfit- throw on a plain tee and a little bandana neck scarf and you're good to go.
This fall, I'm on a mission to find a fresh update to this trend. I've already picked out 3 styles that I'm loving, and I would love to hear what you think!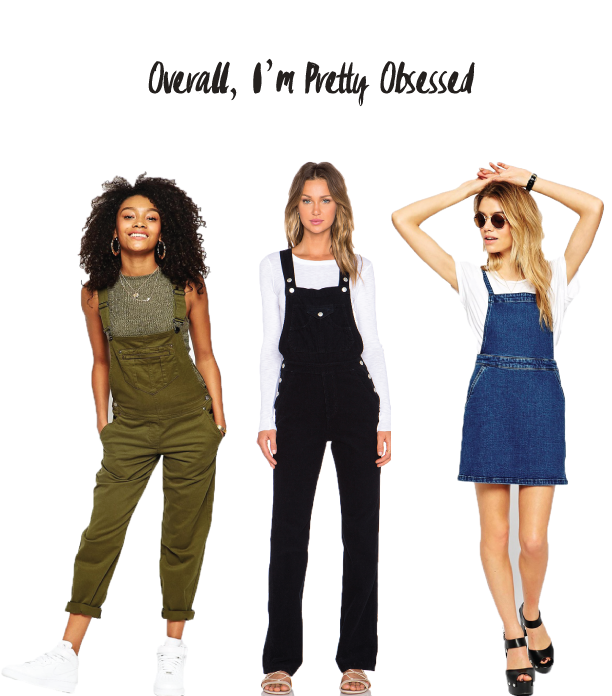 ASOS 90s Style Overalls $81 >> I'm absolutely loving these green, relaxed fit overalls from ASOS. Army green is a key color in my fall wardrobe, and these look especially comfortable. I would pair this style with a white graphic tee and a pair of canvas sneakers.
Alexa Chung for AG Bunny Overalls $325 >> So, let's just take a moment to get past the sticker shock of this pair. Now that that's out of the way, let's talk about how amazing these are. I love the idea of relaxed-fit straight-leg overalls, and I especially love that these are corduroy! It's just a perfect combo, and if Alexa Chung had something to do with them, you know they're going to be cute as hell.
ASOS Denim Aline Pinafore Dress $54 >> I chose this denim "skirtall" style because it's just plain adorable. You could really play up this look by adding tall socks and a cute printed blouse.