I have this habit of letting myself go a bit during the winter. Although, it's not as dramatic as it sounds. I'm still just as concerned with fashion and putting together outfits, and I'm still as much of a shopaholic as any other time. The real struggle for me during the winter is getting myself to actually wear these cute little outfits I put together, and fighting every urge to throw on the largest & warmest things I own.
When I'm cold, I'm pretty miserable. Throughout the winter, you'll hear me say some version of, "I'm not built for cold weather" about a dozen times. I might say it way too often, but it's true. My body doesn't respond well to the cold, and it really takes a toll on my motivation in doing all of my favorite things. This winter, I'm trying to make a real effort to get myself into some cute [and winter appropriate] outfits. I've found that prints have really made this easy, since a good printed piece demands very little from the rest of your outfit.
Novella Royale (though a California-based brand, and very obviously designed for this region) has some of the best printed bottoms that I've come across. I usually stick to their Janis Bells, which are the most magical pants ever, but I decided to branch out into some of their other styles. I bought a pair of the high waisted trousers in the print Dark Dial. I love them, though they're very lightweight and totally not made for colder weather. I decided to rock them anyway- I figured I'd just balance it out with some warm socks and a fuzzy jacket.
Outfit details: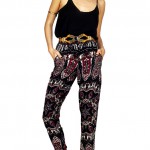 Novella Royale Amber Waves Trouser in Dark Dial
Truly Madly Deeply Cowl Tank in white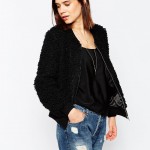 Sam Edelman Petty Boots in putty suede