This weekend's activities were exactly what I needed. I didn't have to rush around, and I feel pretty well-rested and accomplished. Friday night was a nice little treat- I went out for Thai food with my parents and my brother for his birthday. We laughed and reminisced, and ate some delicious food. It's not often that we all get together anymore, so it was a wonderful start to my weekend.
As usual, my Saturday started off with a challenging workout at the 8am. I've gotten into the habit of working out early on Saturday mornings, because by 9am I feel awake, accomplished and ready to start my day. My daytime activities consisted of mostly shopping. Are we surprised? I picked up a few noteworthy items for insane prices. Holler at Lord & Taylor for the extra 50% off + 25% off coupon.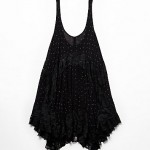 Free People She Swings Slip $23.25
Free People Button Front Denim Skirt $14.96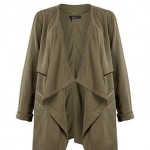 Dex Open Front Lightweight Coat $21.75 (similar)
Free People Thermal Canyon Tie Dye Tee $16.50
Now it's Sunday- I just finished my delicious almond milk mocha latte, and I'm off for a little family hike with the boyfriend and the pooch.
Enjoy your day!